Project: Strengthening the mental health and psychosocial well-being of students and parents in Aden and Lahj, Yemen.
Approach: Development
Donor: BMZ
Partner: Family Counseling and Development Foundation (FCDF)
Budget: 366,666.67 EUR
Duration: 2023-2026
In the war-torn regions of Aden and Lahj, Yemen, Vision Hope, in partnership with the Family Counseling and Development Foundation (FCDF), is launching a crucial initiative to address the acute mental health and psychosocial support needs of the community. FCDF, an established local NGO, specializes in providing comprehensive psychological support, mental health infrastructure development, and public awareness campaigns.
The project's primary aim is to offer specialized mental health and psychosocial support services to the most vulnerable groups—children, adults, and especially women—whose lives have been deeply affected by the ongoing conflict. Additionally, the project emphasizes capacity building, providing training programs, conducting research, and fostering expertise in the field of mental health.
Community engagement is pivotal, with awareness campaigns and outreach efforts aimed at reducing the stigma associated with mental health issues. Collaborations with organizations like the Dutch NGO Dorcas and the Yemeni NGO Loyac aim to maximize collective impact through synergy and cooperation.
This initiative recognizes the critical need for mental health care in a region where traumatic experiences, substance abuse, signs of depression, and suicidal thoughts are on the rise. It strives to establish structures that facilitate recovery, build resilience, and lay the foundation for long-term recovery and development. In a region marred by conflict, this project represents a beacon of hope, offering healing and strength to a community that has endured immense suffering. Together with FCDF, Vision Hope is dedicated to making a lasting positive impact on the mental well-being of the people of Aden and Lahj, Yemen.
Project: Orphanages Hajjah and Al-Mahweet
Approach: Relief
Donor: VHI
Partner: Orphanages Hajjah and Al-Mahweet
Budget: 20,306 EUR
Beneficiaries: 120
Duration: 2022
Orphaned children are particularly vulnerable to exploitation and trafficking, but providing them with shelter, daily meals, and education can help them to rebuild their lives. Vision Hope has been working since 2017 and 2018 to partner with the Hajjah and al-Mahweet Boys' Orphanages to provide this kind of security to dozens of boys. By attending school, eating nutritious meals, and sleeping in clean, warm beds.
In 2022, VHI provided essential food supplies to feed the 123 boys living in the orphanage, including 113 children from the orphanage and 10 children of juvenile status. Additionally, 18 supervisors living in the orphanage have also received essential food supplies.
Orphans have been provided with winter clothes, all necessary school supplies, school uniforms, hygiene tools, and access to healthcare. Psychological support has been provided to 68 orphans by addressing their problems and providing advice and encouragement. VHI has also provided electricity and water supply to two orphanages and implemented a solar energy system in the al-Mahwit orphanage. Ten staff members from the orphanages have received monthly incentives.
In 2022, 123 orphans have had improved prospects for a healthy and fulfilling life, with access to education, nutrition, and medical care, and full protection from all forms of neglect, abuse, and violence. The children no longer have to beg for food or face harassment from community members.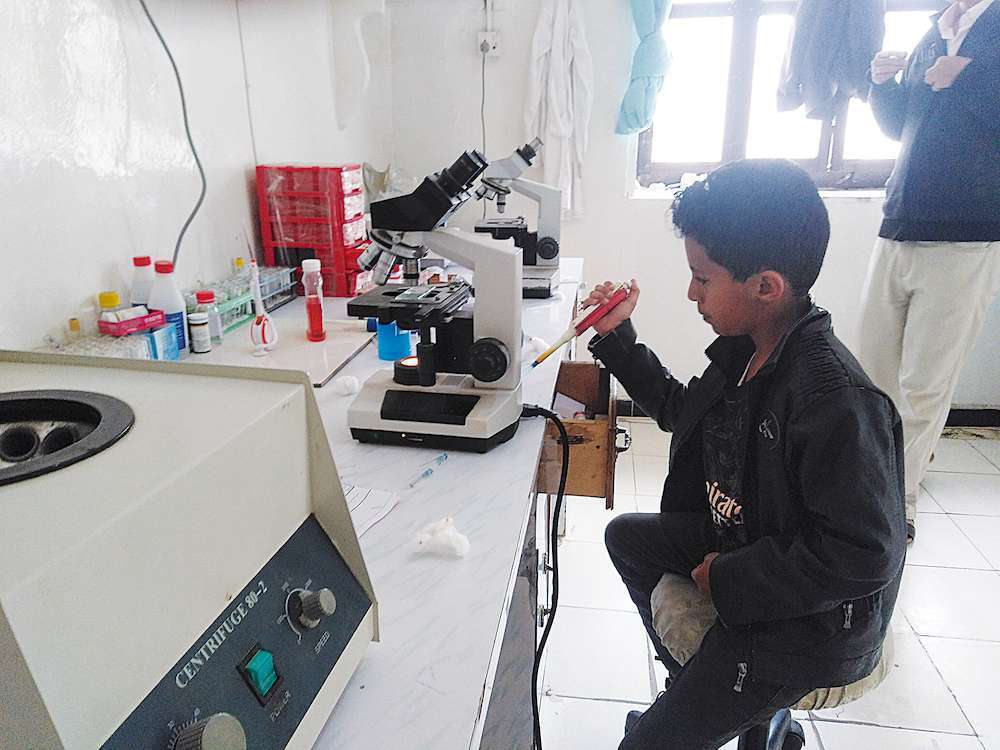 Project: Vocational and economic empowerment of people with special needs
Approach: Development
Partner: Amel Channels Association
Budget: 49,659 EUR
Beneficiaries: 119
Duration: 2021-2022
Because Vision Hope prioritizes the most vulnerable and marginalized people, we implemented the Professional and Economic Professional and Economic Empowerment Project designed to prioritize the most vulnerable and marginalized people, specifically Yemenis living with disabilities. In Hajjah Governorate, focuses on enhancing local capacity and structures for community partners through supplies and equipment provisions and institutional building training for seven association employees.
The project aims to create a skilled workforce of differently abled individuals and promote income-generating activities to ensure economic security, both in the markets and at home. Vocational training courses, including sewing, tailoring, and embroidery, are provided to 30 handicapped and 17 handicapped trained in maintaining phones and iPads. Thirty handicapped females are also trained in skills for cooking and sweets, while 15 are trained in hairdressing, engraving, and henna.
The project aims to enable and equip individuals with disabilities, both children and adults, to live a meaningful and independent life in their families and communities, integrating into society with confidence and dignity. Microfinance for self-employment is provided to support this goal.
In 2022, the project provided professional skills to 92 Yemenis with disabilities in multiple fields, with 56 of them (73% female) receiving microfinance for self-employment. Additionally, therapeutic support improved the quality of life for 20 individuals.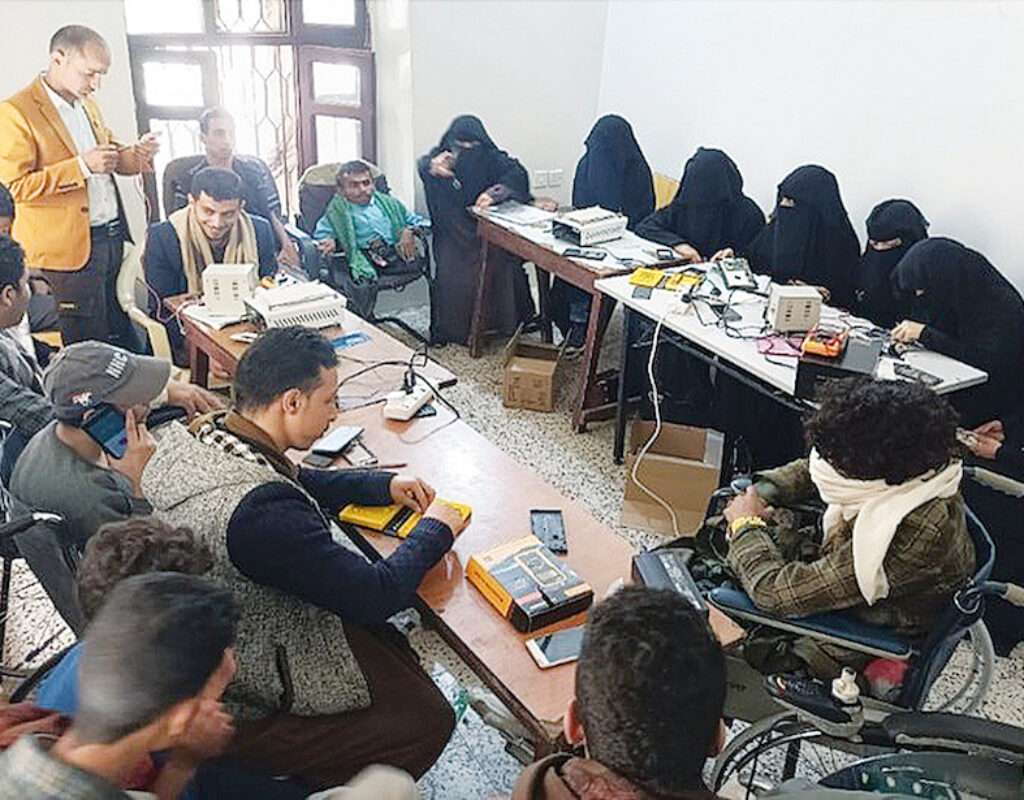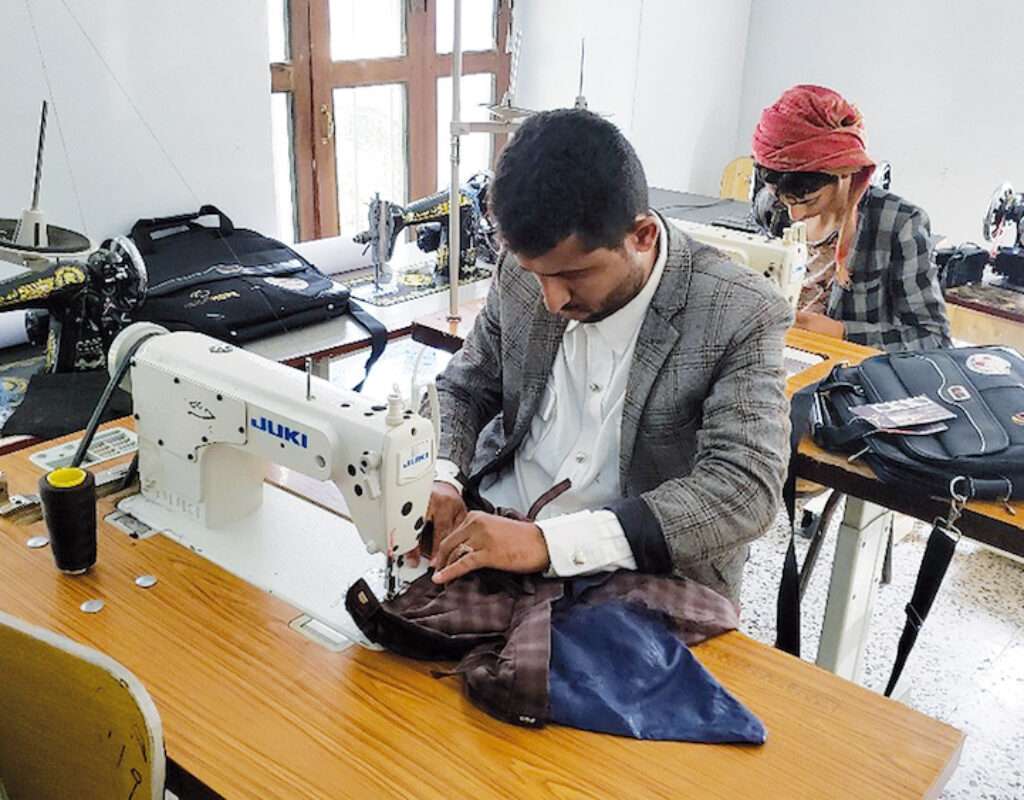 List of results from 2022
7 individuals, including one female, benefited from capacity training for CP staff
30 individuals were trained in sewing skills and provided with sewing machines; 50% were females.
17 individuals were trained in cellphone and tablet maintenance skills; 35% of them were females.
30 females were trained in the preparation of sweets, incense, perfumes, and home cooking skills.
15 females received training in hairdressing and engraving skills.
20 disabled students received either wheelchairs or hearing aids.
6 sewing workshops were established, equipped with modern sewing machines and necessary clothing materials for both women's and men's sewing groups.
Project: Rapid Response Mechanism (RRM) for IDP families
Approach: Relief
Partner: UN Population Fund
Budget: 389,780 EUR
Beneficiaries: 52,172
Duration: 2022
Yemen continues to face humanitarian needs in 2022, whether due to violent armed confrontations or natural disasters such as floods. The first 72 hours following displacement are crucial in determining the long-term well-being of families affected. To prevent massive loss of life and mitigate the impact of the crisis on displaced families and individuals, VHI fulfilled its humanitarian obligations by implementing The RRM Project in 2022.
Each kit was designed to provide a week's supply for each household. It is important to note that RRM is not a long-term solution but rather an immediate response to severe need.
List of results from 2022
52,172 individuals benefited from the distribution of RRM assistance; 50.7% were females
10,142 IDP households benefited from the distribution of RRM assistance; 24.8% were female-headed households
11,568 IDP households were referred for multi-purpose cash assistance, general food distribution, or other services
68 project staff members received training in protection mainstreaming
10,142 females benefited from the distribution of RRM female dignity kits